Auto Financing Options in Innisfil, ON / Greater Barrie Area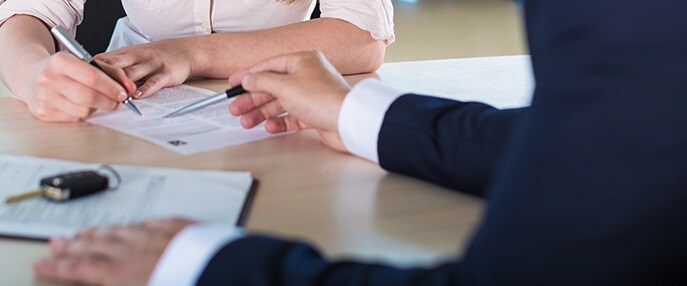 Auto Financing Options in Innisfil, ON / Greater Barrie Area
Are you looking to buy or lease a new vehicle but want to go somewhere that you can trust to guide you through the complexities of the auto financing process? We are the leading INFINITI dealer in Innisfil, Ontario, and we have assisted many people in the Greater Barrie area, Simcoe, Muskoka, Barrie, western shores of Lake Simcoe, Simcoe County, and other surrounding areas get an auto loan or INFINITI lease that worked for their budget. You can view our new and used INFINITI vehicles today and get in touch with us to learn more about all the financial services we can offer you.
Frequently Asked Questions about Auto Financing Options in Innisfil, Ontario
What Does Auto Financing Mean?
Auto financing is the process of getting a car loan or INFINITI lease to cover the cost of your new vehicle. Our finance professionals can guide you through the process and help you discover which of the many options, as well as financing promotions, are best for you.
How Much Can I Get for My Trade-in Vehicle? Five Items to Consider
We understand that being able to afford a new or used vehicle often comes down to how much a customer can get for their current car, truck, or SUV. At our dealership, we are dedicated to helping you get top dollar for your vehicle. Before you head down to see us in your car, here are five things you should consider in regard to your trade.
Use the Resources We Offer: On our website, we have a trade evaluator tool. By entering in some basic information, you can get a great idea of your car's market value. We always make fair market value offers for your vehicle. Getting an idea of what your vehicle is worth prevents any surprises later and might help you focus your car search.
Make Your Vehicle Appealing: Does your car need a vacuuming? Has it been a while since your vehicle has seen the inside of a car wash? Making sure that your car, truck, or SUV is in pristine condition is a good way to make the best impression.
Should I Purchase or Lease My New INFINITI?
The finance team at our dealership often assists folks with their decision to buy or lease their new INFINITI vehicle. The truth is that there are many reasons why people may choose one or the other. Leasing is a financing option where you can get behind the wheel of a new INFINITI car or SUV for a predetermined amount of time and mileage. 
Buying means that you are on the path to ownership through an auto loan. Leasing gets you a lower monthly payment and access to new technology and features every few years while buying means that you will eventually not have a car payment, as well as potential equity you can use toward a new vehicle when you pay the car loan in full. To determine which option is best for your lifestyle and budget, you should get in touch with our INFINITI finance experts in Innisfil, Ontario.
What is the Best Auto Financing?
The finance center at our dealership is often able to offer you rates and terms that are superior to your local financial institution. We also have finance experts that know the ins and outs of auto finance. 
The loan specialist at your bank must know a variety of loan products. They are a generalist. Plus, the convenience of financing with us means you can get behind the wheel of your new vehicle much faster.
Bring Any Proof of Maintenance and Repairs: If you've just had some work done that might enhance the value of your vehicle, we want to see it. It may help a bit to know your car has new brakes and tires.
Consider the Convenience: It is a lot more convenient to trade your vehicle into a dealership than it is to try to sell it in a private sale. While you may want to avoid trading in your car, the truth is that you may just be costing yourself some of your valuable free time.
Trading Your Car Will Help You Reduce the Cost of Your New Vehicle: Trading in your current car, truck, or SUV may lead to you paying a lot less for your new vehicle. It may take the place of putting money down.
Which Vehicle Manufacturers Are Offering Zero Percent Financing in Canada?
Have you heard advertising about car dealerships in Canada offering zero-percent financing? Luckily for you, our INFINITI dealership is now offering zero-percent financing on many of the most popular INFINITI models. Contact a member of our finance team for details on what is currently being offered.
We are eager to do whatever we can to earn your business.
Contact us
to schedule a test drive, or complete our online
credit application
, and let us get started on helping you bring home your new vehicle today.