Added Protection Plans for INFINITI Vehicles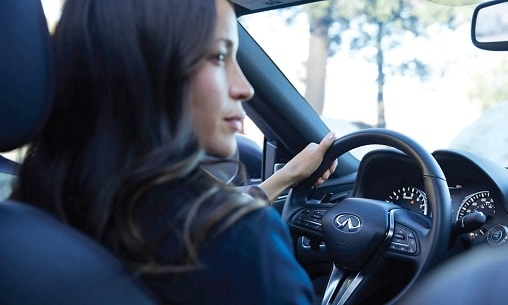 INFINITI Owners
MANUALS & GUIDES
Added Protection Plans for INFINITI Vehicles in Innisfil, ON
Timely maintenance is the ingredient that makes vehicles run reliably well for many years. The region's leading dealer offers INFINITI Added Protection Plans in Innisfil, Ontario, and the Greater Barrie area. You can view our inventory of new and used INFINITI vehicles, visit our finance centre to complete a lease or finance application, and learn how optional Added Protection Plans can ensure they stay running their best.
Plan One: Platinum Protection and Parts Replacement
The Platinum Protection Plan ensures any parts that become faulty are replaced by factory-trained mechanics using only factory OEM parts to keep your INFINITI in like-new conditions. It even replaces typical wear-and-tear parts, like brake pads, ball joints, mufflers, and other parts. Factory-trained mechanics can perform factory-recommended services at the intervals suggested while making sure your INFINITI stays in the safest and most mechanically sound shape possible.
Plan Two: Oil Changes
You need regular oil and oil filter changes to give the engine the maximum protection against internal friction and heat. The INFINITI oil change plan provides factory recommended services at the correct intervals and using oil of your choosing that falls within the accepted viscosity ranges recommended by INFINITI. You can choose between conventional, synthetic, and semi-synthetic automotive oils that help to preserve your engine's internals for as long as possible.
Plan Three: Lease-End or Tire and Wheel Protection
When it is time to turn in your leased INFINITI, a Lease-End Protection plan will help to absorb additional costs commonly incurred by those who lease vehicles. That includes up to $7,500 in coverage for excessive wear and tear. Dents, damaged paint, broken lights and lenses, torn seats and upholstery, and similar commonly incurred charges are waived with no deductible. Or you can disregard the first option and instead choose similar protection for tires, wheels, dents, lost keys and remotes, torn upholstery, and similar damage.
Standalone Extended Service Plans
In addition to the added protection plans are the INFINITI Standalone Extended Service Plans, which offer two levels of additional services. Those two plans are the INFINITI Platinum Protection Plan and the Infiniti Gold Protection Plan. The plans help ensure your INFINITI enjoys a full suite of factory services greatly reduced costs to you.
Even services normally not included with general maintenance can enjoy exceptional protection, like transmission services and other maintenance and repairs that generally are needed as often as oil changes and tune-ups. You are welcome to contact us to learn more and schedule a test drive to see how well an INFINITI fits you.
Questions about INFINITI Added Protection Plans?