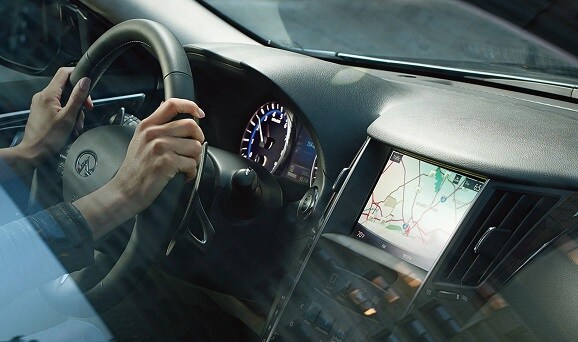 INFINITI Owners
MANUALS & GUIDES
INFINITI In-Touch in Innisfil, Ontario
INFINITI is renowned for the upscale comfort it brings to your ride. Part of that luxury includes convenient access to information, communication, and entertainment that you can enjoy with INFINITI In-Touch services. It's all available from the leading INFINITI dealership in Innisfil, Ontario, where we carry all the new INFINITI vehicles. To find out more, give us a call. We serve the Greater Barrie Area, Simcoe, Muskoka, Barrie, Simcoe County, Lake Simcoe's western shores, and the surrounding areas.
What is INFINITI In-Touch Services?
INFINITI In-Touch connects you to the wider world while you're driving. It helps you find your way by offering directions on a colour display, keeps you up to date with calls from home and office, and entertains you with concert-quality music. Some services are available by remote, such as starting your vehicle, or locking and unlocking doors. They're all included for free with your first year of INFINITI vehicle ownership and are available afterwards via subscription.
How Do You Access INFINITI InTouch
You have two options for accessing INFINITI InTouch features within your vehicle.
By Touch. Conveniently access all the INFINITI InTouch as to offer by swiping, tapping, and pinching on the convenient colour touchscreen in the middle of your dashboard.
By Voice. When you'd rather keep your hands on the steering wheel, just push a talk button on the wheel to activate voice recognition. You can then control all the features through verbal commands.
You can also take advantage of remote access by downloading an app to your smartphone or watch.
Infiniti Intouch - Features and Benefits

INFINITI In-Touch rewards you with a world of maps, music, in-vehicle apps, contacts, and communications. The following details some of the benefits that are available with this technology.
Navigation
You'll always find your way through the dynamic and colourful maps that appear on your dashboard screen. The in-vehicle Compass App reveals your exact GPS location, including latitude and longitude. The system expertly guides you around congestion with the help of SiriusXM Traffic and NavTraffic, which details road closures, accidents, construction, and speed on your route.
Entertainment and Communications
Through the use of voice recognition and Bluetooth® connections to your compatible smartphone, you can use your voice to make hands-free calls, listen to or send text messages, or access your contact list. With SiriusXM Satellite Radio, you can listen to over 120 channels of commercial-free music, the latest news, and exclusive celebrity talk. Enjoy your personal playlist by streaming music from your Bluetooth®-compatible device.
Convenience and Concierge
Expect the VIP treatment 24 hours a day and seven days a week from INFINITI In-Touch. A push of a button connects you to Destination Assistance, where professionally trained agents can help you find your destination and send directions to your smartphone. These agents are also available to unlock your vehicle when you leave the keys in your car.
Your busy day becomes easier when you merge your Google Calendar. You can then hear your appointments read out loud. You can send any addresses in your calendar to the navigation system and automatic directions to your destination.
Safety and Security
You'll always have help in your INFINITI when you need it, by pushing the SOS button to speak with a live Response Specialist. You'll also get connected to one through Automatic Collision Notification during any accident when airbags deploy. This agent can send you roadside assistance when needed.
When you hand the keys over to someone else, you can still monitor your vehicle. Max Speed and Valet Alerts notify you if the driver exceeds the speed and boundary limits that you define. Maintenance Alerts sends notifications when your vehicle experiences a malfunction. And Drive Zone tells you when your car enters or leaves a specified location.
If your vehicle is ever stolen, the latest tracking technology can be used by local authorities to locate and recover your vehicle.
InTouch Highlights
INFINITI InTouch maximizes its usefulness with over 30 available apps, services, and features. They include Online Search with Google to answer your most pertinent questions, Facebook for access to social media posts, email, and scheduled maintenance notification.
What to Do Next
Do you want to experience INFINITI In-Touch features and try out the INFINITI In-Touch app Canada in person? Then contact us to schedule a test drive and view our full new INFINITI lineup today. Be sure to visit our INFINITI Owners page to learn about all of the benefits available exclusively to INFINITI owners.
Make an Inquiry