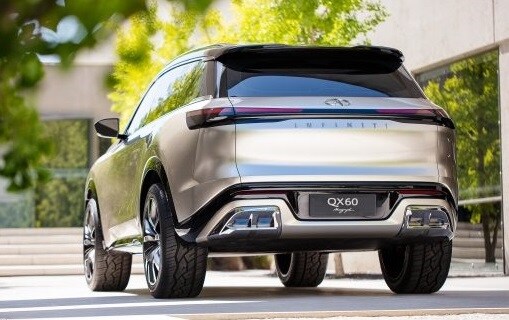 INFINITI Owners
MANUALS & GUIDES
INFINITI QX60 Monograph
Creativity and innovation continue to inspire every generation of Infinity, and that is the case with INFINITI QX60 Monograph. At our INFINITI dealership in Innisfil, Ontario, we continue to keep our customers in step with every release and pending releases of new vehicle models. As the leading dealership in Innisfil, Ontario, we serve the Greater Barrie Area, Simcoe, Muskoka, Barrie, Western shores of Lake Simcoe, Simcoe County, and surrounding areas. Our esteemed customers are always allowed to come and view new and used INFINITI vehicles. As an understanding and customer-oriented dealer, we offer various financial services and options to our customers. Welcome to our dealership and learn more about the finance services available to you.
What is the INFINITI QX60 Monograph?
For those curious about the QX60 Monograph, this is the next generation successor of the current INFINITI QX60. The vehicle is futuristic yet practical in many aspects. The vehicle has been unveiled and very soon the car will be available to our customers. Like its predecessor, attention has been given to space, comfort, technology, and practicality. QX60 Monograph remains versatile in many aspects. Firstly, the QX60 Monograph is designed to meet the needs of a modern generation. Individuals who enjoy a premium touch in a car and bold design will enjoy the innovative technology the vehicle offers. There is an all-round camera view that makes parking easy. Most importantly, the QX60 Monograph is slightly wider than its predecessor. This means that families would sit comfortably in the QX60 Monograph. 

The engineering design offers three rows of seats to accommodate a large family or extra friends without compromising comfort. Furthermore, the elevated driving position also gives the QX60 Monograph a commanding view of the road and a feel of SUV drive. For customers who enjoy a sleek yet athletic machine, the QX60 Monograph is the bold way to announce your presence. The front grill has an illuminated INFINITY logo to add to its beauty. The rims are large and body curvature attractive. Given its good ground clearance, the vehicle strikes a balance between urban lifestyle and off-road driving for lovers of adventure.
The Future of INFINITI Design
The future of INFINITI design continues to evolve. Therefore, customers will always be served with the most updated models in terms of safety, performance, and vehicle technology. Watch out for more. Despite the possible future changes, the QX60 Monograph will most likely continue to blend traditional Japanese designs but harmonized to offer an appealing aerodynamic silhouette.
Learn More
To learn more about what is coming and what we have now, we welcome you to view our new INFINITI lineup today. You can also contact us to learn more. Our customer-friendly staff will respond to your queries.
Questions about INFINITI QX60 Monograph?